Dr Victoria Harrington
Head Vet/Owner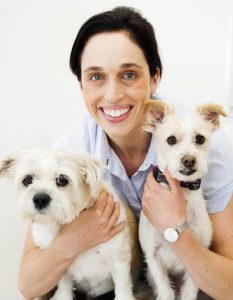 Since 2014 I have been the proud owner of the Ivanhoe Veterinary Clinic.
I am fortunate to do what I love each and every day!
I am so very proud of my story, my profession and of my clinic. My aim is to help the Ivanhoe Veterinary Clinic be the best it can be and to help maximise the health and happiness of all the pets that visit it.
I am a born and bred Ivanhoe girl, having grown up in Ivanhoe East and attending Mother of God Primary School. In fact, Dr John Walton (the previous owner of the Ivanhoe Veterinary Clinic) was my family vet when I was growing up and I even completed my high school work experience at the Ivanhoe Vet Clinic!
After completing secondary school at Our Lady of Mercy College in Heidelberg, I went on to complete a Bachelor of Biomedical Science at Monash University (2000-2002).
In 2003, I relocated to Sydney to commence a Bachelor of Veterinary Science at the University of Sydney, graduating with first class honours in 2007.
Following graduation, I followed my heart back to Melbourne, commencing a new graduate position at the Bundoora Veterinary Clinic and Hospital/ Northern Suburbs Animal Emergency Centre. This busy emergency hospital gave me the best start I could have ever hoped for, allowing me the opportunity to learn many aspects of internal medicine, surgery and emergency medicine in a highly supportive environment.
I happily remained at this clinic until November 2011 before having the opportunity to work in my home suburb of Ivanhoe.
I was overjoyed to begin working in the Ivanhoe area, already having such strong links to the community. Since joining the practice I have furthered my strong knowledge base and skill set and have a particular interest in Dermatology. I have a genuine enthusiasm and compassion for my patients and clients alike.
I love my patients and take pride in the fact that I may be their vet throughout their entire lives. It is my real pleasure to watch them grow and change from their first puppy or kitten visits all the way through to their senior check-ups.
In my down time, I love spending time with my two young boys Ben and Sam and my Jack Russell X dogs Scruffy and Vinny.
I look forward to being a part of the Ivanhoe community for many years to come and forming life long bonds along the way.